A creation of Buffalo Toronto Public Media (BTPM), Reading Rainbow premiered in 1983 as a wildly successful approach for using television to inspire children's love of reading and build lasting connections between kids and books.
It grew to become one of the longest-running and best-loved children's literacy series on PBS.
The program reached more than two million viewers each week and for many years was the most watched PBS program in elementary school classrooms across the country. Over its 26-year run, Reading Rainbow received considerable international acclaim, garnering more than 250 awards, including a Peabody Award, 26 Emmy Awards – including 10 for Outstanding Children's Series – a Teachers' Choice Award, and 9 Parents' Choice Awards.
Reading Rainbow was partially supported by a "Ready to Learn" grant from the U.S. Department of Education. As a result, a series of goals were recognized as vehicles for content development around four major themes: to motivate kids in grades K-3 to become avid readers; help all kids succeed as readers; encourage a strong home literacy environment; and enrich classroom literacy environments. These objectives made up the core of Reading Rainbow's success.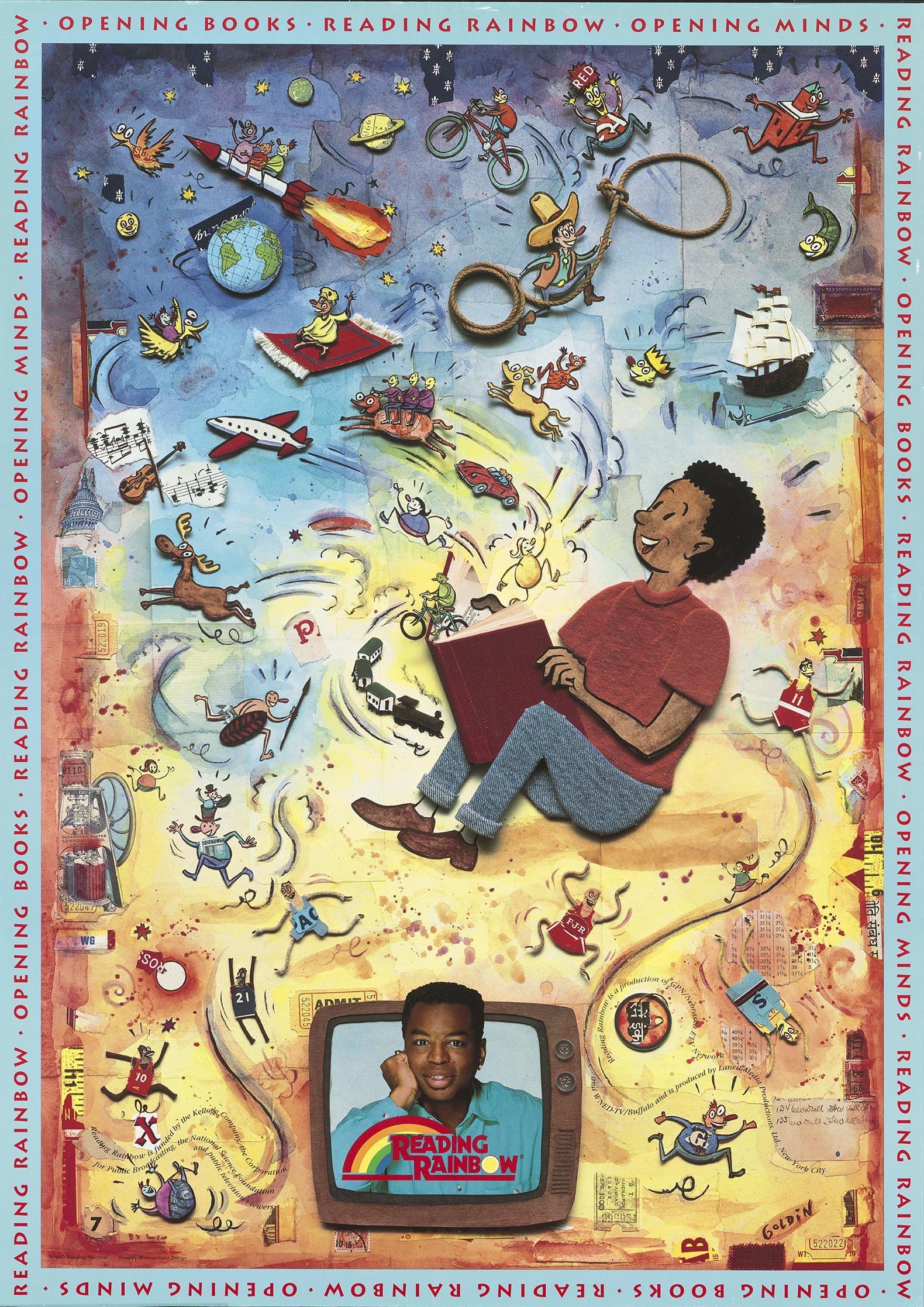 Reading Rainbow timeline:
Launched in 1983, it was the most-watched PBS program in the classroom featuring a library of over 150 programs.

As of 2005:

Reading Rainbow was carried on 95% of the Public Television Stations, serving 85% of the Designated Market Area (DMA).
Based on carriage reports, an average of 670,000 individuals per week watched Reading Rainbow. However, these numbers don't include the approximately 10 million students who watched Reading Rainbow weekly in school...via broadcast, VHS, DVD and video streaming.
When production ended in 2006, over 2.1 million children, teachers and parents were tuning in to Reading Rainbow.

Production ended in 2006.

August 2009 Reading Rainbow came to the end of its broadcast run.
November 2018, Reading Rainbow announced that Research and Development began on a new series thanks to a $200,000 grant from The John R. Oishei Foundation.
Reading Rainbow announces the first of several new chapters with "Reading Rainbow Live," which uses the interactive virtual platform Looped and invites viewers into the screen to interact with each other and the event's hosts. Learn more at

readingrainbowlive.com

.
Bragging Points
Reading Rainbow was the most-watched PBS program in the classroom featuring a library of over 150 programs.
In the 2004 "PBS Study of Video and Television Use Among K-12 Teachers," Reading Rainbow was the number one most-watched PBS program in classrooms nationwide.

Over 500,000+ copies of Reading Rainbow episodes have been sold since 1995.

During its broadcast run, more than 40,000 children K-3rd grade entered the Reading Rainbow Young Writers & Illustrators Contest each year.

PBSKIDS.org/readingrainbow (primary audience is children, secondary audience is parents) received an average 1,433,626 page views/month. readingrainbow.org (primary audience is educators) received an average of 90,000 visitors/month who downloaded over 20,000 PDF files.

Reading Rainbow has earned more than 250 awards, including a Peabody, nine Parents' Choice awards, and 25 Emmys, nine of which were for Outstanding Children's Series.

Educators continue to use the series in their classrooms, and the series is currently available for streaming through Amazon Prime Video.